Miele
Miele Washing machines with honeycomb drum

W1914
W1916
W1945
W3204
W3240
W3985
W5740
W5824
W5748
W5962
W5968
Miele W 5740 Washing Machine

Miele W 5748 ss Washing Machine
Miele W 5824 Washing Machine

Miele W 5962 Washing Machine

Miele W 5968 WPS LiquidWash Washing Machine
Miele W 3240 Washing Machine

Miele W 3204 Washing Machine

Miele W 3985 WPS Washing Machine
Miele Washing Machines
honeycomb drums are the latest technology from Miele that help to take more care of your clothes in the washing machine!
John Lewis have these Miele Washing machines that feature the honeycomb drum.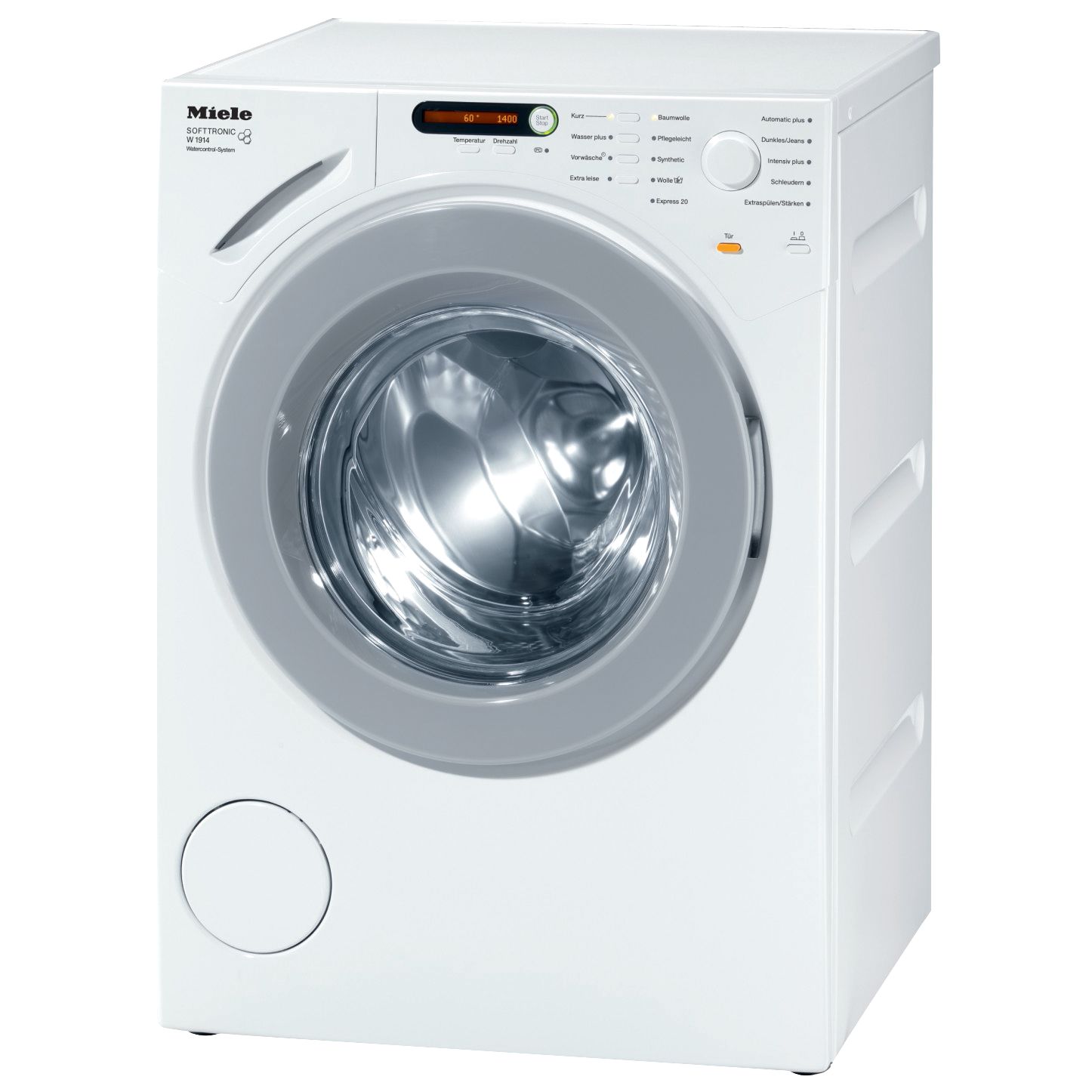 Miele W1914 Washing Machine, 7kg Load, A+ Energy Rating, 1400rpm Spin, White
from John Lewis £799.00
Please note: This product is not available in our shops for viewing. However, you can still place your order in store. The modern-looking Miele W1914 washing machine offers 9 wash programmes and takes just 109 minutes on a 60°C wash. The W1914 has a wide 33cm door opening for easier loading and unloading. It also features Miele's Water Plus System, which raises the water level - if necessary adding an extra rinse if it's needed. There's also an excess detergent indicator, so you won't overdo the non-biological. A wide choice of spin speeds (400 – 1400rpm) means this Miele washing machine can cope with every kind of garment or fabric, including an anti-crease action to help with the ironing. The machine's drum has a honeycomb patterned surface which creates a film of water to cushion garments, reducing wear and tear. W1914 highlights: 7kg wash load Express 20 for quickly washing and spinning lightly soiled items Extra Quiet allows you to reduce noise levels when using the washing machine during quiet periods, for instance when people are sleeping Intensive Plus - automatic selection of prewash and an extended wash time to cope with persistent stains Self cleaning detergent drawer - a special automatic cleaning process flushes out the detergent drawer to ensure it is always spotlessly clean A sequence indicator lights let you know how far the wash cycle has progressed and the time remaining, plus there's a buzzer to tell you when the washing's over. The W1914 will also protect you from leaks, thanks to a water control system which monitors water levels. Miele machines are famous for their longevity, designed to have a lifespan of 20 years in normal use. Miele will therefore guarantee to carry spare parts accordingly. Their machines have an enamel coating which is directly applied as a powder, and will not chip, rust or lose its colour in normal use


Optimum Garment Care comes with Miele's new patented honeycomb drum
Have you ever noticed how your washing often sticks to the inside of the drum of the washing machine and you have to spin it round to get the stuff out and often it's got a pattern of the holes on?
Well with the new style drum the laundry is protected by the unique sculptured structure.
It's the slightly sculptured surface structure of the honeycomb drum that creates a thin film of water which gently cushions the laundry away from the drum. Rather than being at the receiving end of rough treatment, garments move smoothly around in the drum. This means you get simply unbeatable gentle laundry care.

These tiny, smooth-edged perforations in the drum wall ensure minimal mechanical strain on your garments. Fabric snags no longer occur. Even after the fastest spin cycle, garments collect loosely in the machine without any drum imprints. And the very small diameter of the perforations prevents small foreign objects from getting into the drain pump.
And the new range from Miele the W 5000 series washing machines have a load capacity of 1-8kg making them the ideal choice for households with large amounts of laundry.
Back to main page of Steam-Washing-Machine.co.uk